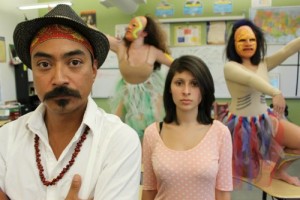 Milta Ortiz, moved to Tucson with her husband solely to write the documentary drama play titled Más, about the banning of Mexican-American studies in the Tucson Unified School District.
Ortiz, Borderland Theater's marketing and outreach director, is passionately working with her husband, Marc Pinate, the theater's producing director, to bring the theater centerstage to new audiences in Southern Arizona.
Borderlands Theater has undergone various changes since being founded 30 years ago by Barclay Goldsmith. But the emphasis of the theater has always been on the border voice and telling native stories, a mission that continues to thrive under Pinate's direction.
The proximity between Mexico and Arizona has continually had a distinct influence on the culture and people of this state, and it is this culture that has distinctly begun to shape the performing arts in the southwest.
Niche regional theaters continue to establish giving voice to community members and often minority groups in cities around the country. As the Penumbra Theater gives voice to the African-American community in Minnesota, Borderlands Theater gives voice the Hispanic and Latino community in Arizona.
Más debuted as the first play for Borderlands Theater's 2015 season. The play brought together people of all ages and cultures, which was unique for the theater whose typical patrons are liberal retired white individuals.
"We are now really interested in targeting that younger population, that hip audience and of course the Latino audience," said Ortiz, "For very complicated reasons they are not going to the theater so our mission is to say the theater is for you, it is about you, you can partake in the theater experience."
For more information on Borderlands Theater, visit borderlandstheater.org and to read the full story written by Morrena Villanueva visit  Arizona Cultural Theater Takes Stage .
#arizonatheater #culturaltheater #Mas #borderlandstheater #morrenavillanueva #jeanettehill #jwhillproduction #theater #ourstoriesyourvoice #arizonasonoranews
Jeanette Hill
JW Hill Production