Whew! Urban Playwrights United Conference! Every year I say that the annual Urban Playwrights (UPU) United Conference can't be topped and yet, every year turns out better than the previous year. 6th UPU Conference in 2015 was  no exception! Warning: This is NOT a "sit back and relax your on vacation" type of conference. Attendees hit the ground running! Many are warned weeks before to rest up!
The conference this year came with a special surprise! National touring playwright/promoter, Angela Dunlap was in attendance for the entire conference. She even sponsored a synopsis contest with the prize being the opportunity for the writer(s) to create a full script which she would consider producing!!
Our other special guest was the UPU perennial favorite, actor DeEtta West from UPTV and AspireTV! (Watch her most recent Christmas movie this Sunday night (12/13) on UPTV!
Not only did we reunite with old UPU friends and colleagues but we met new ones. Playwrights and producers from Michigan, Ohio, Rhode Island, North Carolina, New Jersey, Pennsylvania, Maryland and Texas descended on Columbia the capitol city of South Carolina for a four day information-fest covering the craft of playwriting, fine points of directing, successful producing, effective networking and marketing techniques.
The Thursday afternoon opening included and overview of the national organization of urban playwrights, directors and producers but quickly moved into a mini-course on developing multiple streams of income including a dynamic presentation by founder, visionary Vanessa Lynn on how to 'write for hire'. Following this presentation was UPU Board member, Professor Ursula Robinson's dynamic 'Directors Intensive' workshop where we learn in depth methods of not only directing our work but how to get the  most out of our actors.
The highly anticipated and competitive Two-Minute Play Competition team assignments were made next. This exercise teaches the attendees to work with others and about collaboration. Each team is composed of a producer, writer, director, technical director and marketing manager. They have approximately forty-eights hours to write, market and produce a two-minute play. If you don't believe that the competition was fierce, check out the promos, pictures, videos and posts on Facebook, Twitter and Instagram!
Assistant Principal Robyn Rease-Burdette, conducted early morning coffee groups about faith and theater and Art in public schools.
The conference included several field trips. One was a tour of Walk on Water (WOW) Productions studio, managed by UPU members Tangie Brickhouse-Beaty and Donna Johnson where additional workshops were conducted including one on Marketing and Budgeting by Tangie Brickhouse-Beaty.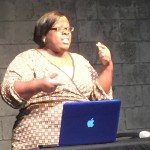 Winston-Salem State University professor Andre Minkins covered the difference between musical theater and music in theater, children's theater and one person shows  including audience participation.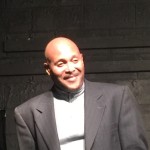 UPU's version of Shark Tank Pitch with panelists DeEtta West, Gail Lyles and Angela Dunlap.  The field trips continued to South Carolina Educational Television and to Township Auditorium where manager Aundrai Holloway gave a presentation on touring theater productions and negotiating power.
Saturday was spent on the campus of the gracious South Carolina State University with a very informative presentation on Small Business Development by Charles Robinson, who explained that the creatives in attendance were in business and how the Small Business Develop Centers can help in establishing their businesses started on the right foot.
DeEtta West and yours truly discussed the power of effective networking and how positioning yourself can benefit one's career.