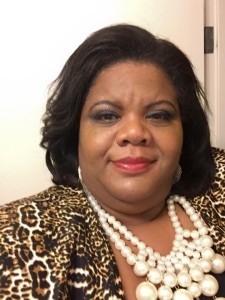 Ursula O. Robinson is the Drama Program Coordinator and a Tenured Associate Professor of Drama at South Carolina State University where she cultivates and molds young dreamers into accomplished artists. This award winning playwright is also the Artistic Director of Ursula O. Robinson Productions (UORP), a comprehensive artistic company that creates tailor-made works of art that heal, entertain, educate, and even set the mind free!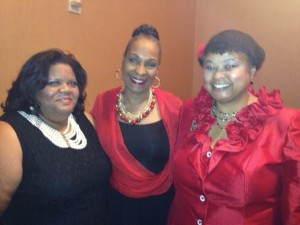 Ursula O. Robinson is also chair of the Creative Spiritual Arts Department at Spiritual Foundation Ministries in Orangeburg, South Carolina, where she uses her God-given talents to uplift and edify. She is also a member of the  Board of Directors for the Urban Playwrights United, a nation-wide umbrella organization for urban playwrights and producer .  She is also an accomplished Toastmaster's International award winning speech maker holding the title of District 58 Humorous Speech Winner for two consecutive years.  Recently she was awarded the Best Author Award for the Atlanta Black Theatre Festival.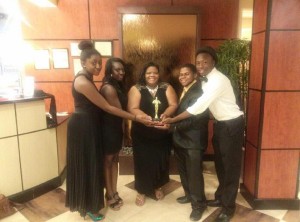 This accomplished artist, is known for her one-woman shows, her hilarious comedy acts , and her prowess as a writer of personalized monologues. Ursula Robinson holds a BA in English, a BA in Theater Arts, and an M.F.A. in Acting. Blessed with the gifts of playwriting, performance, and practically anything artistic, Ms Robinson believes that the arts have the ability to change people's lives for the better.
Let's hear from Ursula:
You seem to have the best of both worlds. You not only get to write and perform but you get to teach others how to do it. Living and loving what you do!1.     Do you find it challenging combining the Creative Ursula with Professor Robinson? How do you manage to keep your roles a teacher, writer/performer separate?Sometimes they can be the same hat just a different location… Often my works are written to showcase the talents of my students and to offer them the opportunity to witness the transformation from page to stage. When I operate as an artist I am also teaching and preparing them for a future in the arts. Sometimes thee roles are very desperate because I work in a system that requires you to evaluate and give feedback in the form of a grade… Or if I have to generate reports or evaluate my own performance based upon a set of standards created by non- artists.. Then I am very aware of myself as a teacher.  For the most part I consider myself an artist/educator who uses art to birth other artist who change the world.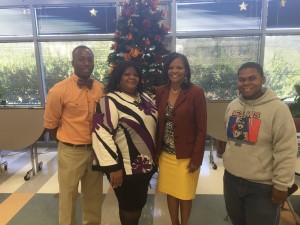 2.     Alternately wearing the hats of actor, writer and producer which hat do you find most comfortable?The least stressful in terms of the process to create a product is of course teacher because the audience is smaller and there is room for change and discovery while presenting ideas to students.. In performance there is more artistic stress in creating a three-dimensional character who conveys the playwrights intention effectively and in the moment that it is happening onstage. There is no room for mistakes or breathers once you hit the stage!

3.     With both the funding for and devaluing of the Arts significantly decreasing in recent years, how have you maintained the creative energy of 'touching the future' artistically and academically for your students?

The fuel for any artist is the art itself… I have created in abundance and in squalor but the conditions did not taint the art because the art was born out of the pureness of who I am as an artist. There is a saying that my professor use to use.. We create great theatre, at a loss if we must. At a profit if we can.. But always great theatre. I am not sure of the original author of this saying but it is true… The lean times have often created the best work because it caused me to dig deeper into my well of creativity.

4.     Explain to our readers why you feel it is so important that African Americans continue to use our voices and style to tell our stories?

We must tell our stories so we will not forget who we once were…We have made come a long way but we have not arrived… And like Hansel and Gretel who could not go back home and almost became supper for someone.. African Americans will be consumed by our past if we do not remember from whence we have come…It is our history that makes us strong because it built our muscles. Forgetting how you were developed opens the door for that past to attack your clean memory and put you right back in that same predicament.

5.     What can we look for next from the Creative Ursula?

Anything and everything! I am embarking on more adventurous works and in working with a wider audience. And of course.. a few laughs! I just want to continue to do what God has created me to be.. A voice!
 https://www.facebook.com/ursula.robinson