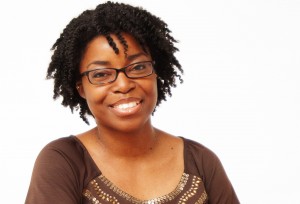 Tyora Moody is the author Soul-Searching Suspense novels in the Serena Manchester Series, Victory Gospel Series and the Eugeena Patterson Mysteries.  As a literary-focused entrepreneur, she has assisted countless authors with developing an online presence via her design and marketing company, Tywebbin Creations LLC.  Popular services include virtual event planning, social media management, book trailers and book covers.  She is also the author of the nonfiction book, The Literary Entrepreneur's Toolkit, and the host of The Literary Entrepreneur Podcast.  For more information about her literary endeavors, visit her online at TyoraMoody.com.

You are a woman with many talents. How do you manage so many different projects/businesses and maintain a 'day job without stressing out?
Well, I can't say I don't get stressed out. LOL! Especially after a long day at the day job. I manage an entire department and I'm often called on to put out fires.  I have learned over the years that as long as I stay at my day job, I needed to let go of those services that were stressing me in my business. I decided to start to focus on only providing services that kept my passions alive and brought me to life when I started to work on them at night.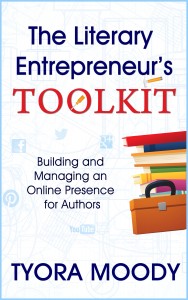 I do have a habit of being overly ambitious. What I have learned is to accept what I get done in a day or week is okay.  Maybe that's what you were meant to accomplish. I have moved one step towards a goal and made at least one or two clients happy. The goal is to provide a quality service.
I also prefer to work a little bit on this project and a little bit on this project until I reach my goal. I have found putting these large projects on a to-do list without any baby steps in between make you more stressed.
What made you decide to become an entrepreneur!  At what point did you consider yourself a professional in your new field?
I grew up with two entrepreneurs – my parents. My dad was a contractor and I watched him build houses, tile bathrooms, do carpentry work and even bricklaying. He was a jack of all trades, but really good with everything he touched. My mother had a beauty salon for almost thirty years. So as a teenager I worked in her shop and watched how she interacted with customers. Her customers loved her and were incredibly loyal.  I take a lot of what I've learned from both of my parents and use those skills in my business.
So, I guess in the back of my mind I always thought I would do something as an entrepreneur. I wasn't sure what… it came to be me over time.
I started to think of myself as a professional once I became more serious an established my LLCs, increased prices and really started thinking bottom line like a business.
No one succeeds alone. What type of team members do you require to meet your goals?
You're exactly right! In the first couple of years, I was very much a solopreneur. I had the skills so I did it mostly everything myself. The problem with that model is there are only so many hours in a day and you can easily burn yourself out.
When you need to hire a virtual assistant or outsource, you should carefully consider it and not let your budget deter you. I have used a virtual assistant for several years and still outsource some of my services. It helps to keep the business running on those days when you're tied up on other projects or just flat out tired.
I look for people who are dependable and have the skill set that matches the quality of service I want to deliver. I also network with others who may or may not be in the same business as me and try to assist where I can. Collaborations and partnerships are very encouraging.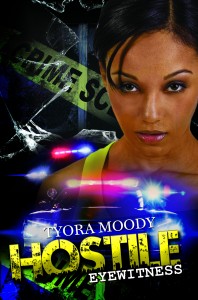 If you were offered a sound project but it didn't fit into your career plans, would you accept it to finance your main interests even it meant delaying one or more of them? Why or why not?
At this point in my life. No. Maybe a few years ago I would have. I'm in my 40s now… rapidly approaching mid-40s.  I just flat out no longer want to spend my energy on what I really am not passionate about doing.  I'm okay with waiting on God to provide the increase when it's time. Plus I've been there when I have taken on projects for finances versus really making sure that's what God intended for me to take on. Those projects tend to give you the worse headaches and regrets.
How do you rebound when things don't go the way you've planned?
Well, first I evaluate what went wrong and what I needed to learn from the experience. Many times if a service doesn't go right, I may review the workflow and try another process. I think an entrepreneur you have to take risks and be flexible. You can't let fear of failure or even when something falls flat and keeps you down. It's all a part of the growth process.
You have a recent Eugeena Mystery book release. Do you have plans to move your novels into another industry such as film or television?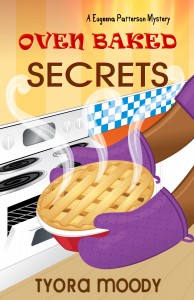 I would love to see Ms. Eugeena live in person either in a play or a web series. In the future, I can see casting auditions for someone to play her. A film would be great too!  Ms. Eugeena fits that audience who loved watching Murder She Wrote except Ms. Eugeena has a bit more sass to her style.
How can we contact you?
I encourage your readers to visit me at my website, TyoraMoody.com. You can find out pretty much about all my online activities with my businesses, Tywebbin Creations, and Tymm Publishing.
Also, follow me on Twitter – @tyoramoody  and Like me on Facebook at http://www.facebook.com/authortyoramoody
Contact Tyora at: